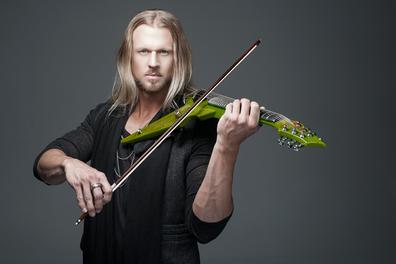 Jared's talent is exemplified through his innate ability to play the violin, when at the age of three he began to play and nurture his musical skills. Jared's ability evolved not only by years of classical training, but also through his mother's love for music, which only increased his devotion to the violin. Influenced by the likes of The Charlie Daniel's Band, Jean Luc Ponty and more mainstream artists such as Boyd Tinsley of the Dave Matthews Band, Jared's musical style has evolved from classical to include bluegrass and jazz, contemporary and modern rock sounds. At the age of 17, he landed a spot performing with the Sydney Symphony Orchestra, at 26 became Broadway acclaimed and known for his hunky physique with mesmerizing talent to match. His unexpected ability and fine-tuned skill allow him to continue to enamor audiences while performing at New York City's Carnegie Hall, famed House of Blues and Hard Rock Live venues, amphitheaters, arenas, and restored vaudeville theatres around the nation.
Jared has made personal appearances on Live! with Regis and Kelly, MTV, Nickelodeon's Slime Time Live, The Wayne Brady Show, and numerous regional and national TV networks in addition to appearances with live Dj's in various night club venues around the country. He could most recently be seen performing nightly on the newest Broadway spectacular, "Cirque Dreams Jungle Fantasy" in the Broadway Theatre in New York City, Six Flags Theme Parks' most exclusive production, Cirque Dreams Coobrila, Cirque Dreams Holidaze, or Cirque Dreams & Dinner aboard the brand new Norwegian Cruise Liner Epic.
Determined to continue to help preserve music programs in America's public schools, Jared teams up with VH1's Save the Music Foundation, to present Master Classes to students all across the country, giving him the opportunity to ensure that tomorrow's generation has equal inspiration and ability to nurture their musical talents.